Public safety
Event Alert System
A color-coded Event Alert System (EAS) will communicate the status of course conditions to participants leading up to and on race day. The levels range from Low (green) to Moderate (yellow) to High (red) to Extreme (black) based primarily on the weather, as well as other conditions.
Email and website communication during race week will inform participants of the current Event Alert System status and provide preparation tips based on advance weather forecasts.
Updates will be made at the Abbott Health & Fitness Expo via handouts at the participant packet pick-up area and public address announcements.
On race day, the current Event Alert System status will be communicated via public address announcements and color-coded signs/flags at the start and finish areas, and along the course at each of the 20 aid station locations and via large digital traffic message boards.
All participants should familiarize themselves with the Event Alert System prior to the race, remain alert for directions from race officials and announcers and take precautions to prepare properly for varying weather conditions on race day.
Event Alert System table: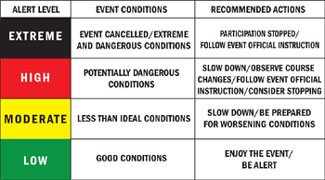 Public safety message
Please join us in being vigilant of your surroundings during the Bank of America Chicago Marathon. If you see a suspicious person, object or vehicle along or near the race course, report the sighting to 9-1-1 or to law enforcement personnel.
Do not store, hide or leave any personal items, backpacks, packages or clothes along or near the race course, including the start and finish line areas in Grant Park. Use designated Gear Check areas to check your personal belongings, or leave your personal items with a friend or family member.
Thank you for helping to keep yourself and those around you safe.