Volunteers

---
On Sunday, October 11 the Bank of America Chicago Marathon will mark the pinnacle of achievement for runners ranging from world-class elites to debut marathoners. Prepare yourself to feel inspired, motivated and energized by volunteering with one of the world's most renowned and popular marathons.
Current volunteer opportunities are listed below. Volunteers are required to register online by midnight, Monday, October 5.
Unregistered individuals will not be allowed to volunteer the day of the event.
Pre-race opportunities
Participant packet preparation
Friday, September 18 through Sunday, September 20
If you are running the Bank of America Chicago Marathon or otherwise unable to volunteer race weekend, you can still get involved! Help us prepare for the arrival of thousands of participants by preparing race packets on September 18, 19 or 20. Enjoy pizza, music, the company of fellow volunteers and more! We hope you will consider joining our packet preparation team!
Abbott Health & Fitness Expo
Friday, October 9 and Saturday, October 10
Join us in welcoming participants from around the world at the Abbott Health & Fitness Expo at McCormick Place. The Abbott Health & Fitness Expo is often the first stop for many runners, bringing months of planning and preparation to life. Share in the anticipation of race day and wish this year's participants 'good luck' by registering to volunteer for one of our Expo roles!
Race day opportunities
October 11
Start corrals
Experience the excitement of participants getting ready to race as a start corral volunteer! The Bank of America Chicago Marathon places participants into specific race day start corrals based on qualifying or estimated finish times. Start corral volunteers regulate access to the start corrals, control flow through pedestrian crosswalks and keep participants organized as they move toward the start line to kick off their Chicago Marathon journeys. Learn more about start corrals today!
Grant Park info team
How do we ensure participants from all over the world know where to check their gear, enter their start corral and enjoy the post-race party on race day? We rely on knowledgeable and enthusiastic info team volunteers! Help us provide general event information and directions to key destinations in and adjacent to Grant Park. Join the info team to play a vital role in making sure race participants, spectators and volunteers have a great experience at the 2015 Bank of America Chicago Marathon.
Course marshal application
Spanning all 29 neighborhoods and 26.2 miles of the race course, course marshals play a vital role supporting the participants, spectators and community on race day. Community partners and neighborhood supporters living or working on or near the course are invited to volunteer with us. Preference will be given to applicants who are adults and live in the neighborhood in which they are volunteering. Visit our course marshal application for more information and to apply to join us on race day!
Get more involved
Group Leader application
Volunteer groups are needed to distribute t-shirts, check gear and support aid stations, among many other vital roles, and that process starts with you. Group Leaders are responsible for recruiting volunteers, sharing assignment information, relaying registration instructions and keeping their group on task and organized on the day of the event. As a past Group Leader, or a new group looking to get involved, please visit the Group Leader application to learn more and apply to bring your group to the 2015 event.
Key Volunteer application
Can you help fulfill critical leadership and management roles at the Bank of America Chicago Marathon? If so, becoming a Key Volunteer may be a good fit for you. Becoming a key volunteer is a great opportunity for individuals looking to translate their experience, enthusiasm and passion into a higher level commitment to the event. If you are interested in becoming a Key Volunteer in 2015 please visit the Key Volunteer application to learn more and apply today.
---
---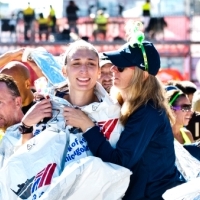 Race weekend photos
Relive the excitement and take a peak at other areas of the event by visiting the photo gallery. Do you have amazing photos you would like to share? Email us your photos or a link to the album.
Photos courtesy of volunteer photographers Norman Timonera, Al Junco and more.